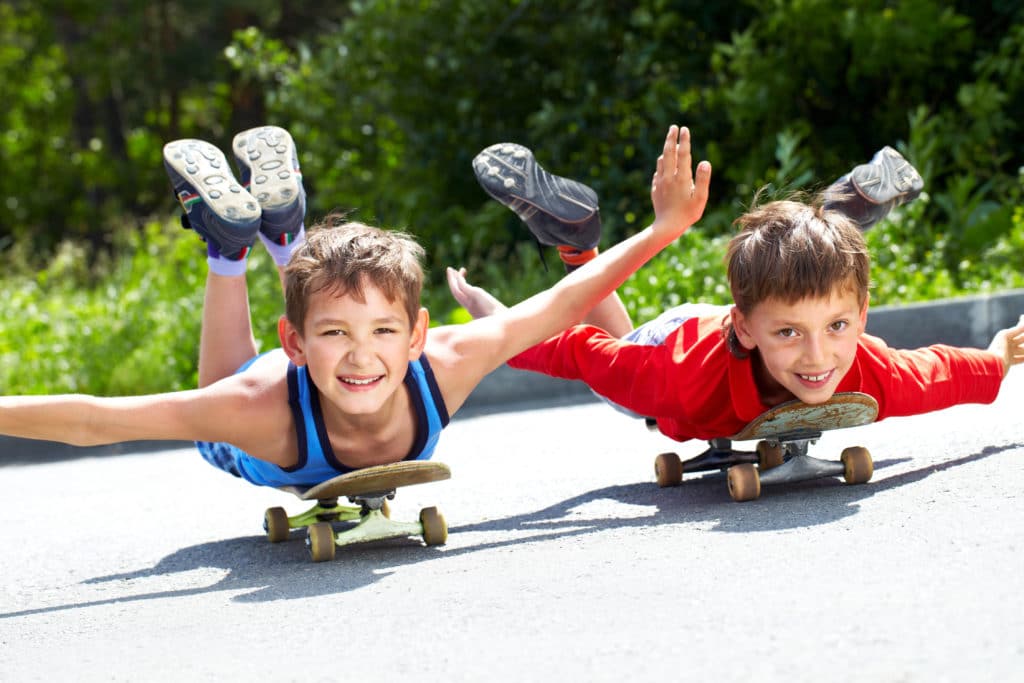 With these six basic pieces of equipment, you can engage your kids in fun, challenging athletic training at home.
Vew-Do NUB Boards. This safe and fun balance-trainingdevice helps a child develop body awareness, core strength, and rotational movement. In addition, the boards replicate board sports (skateboarding, snowboarding, surfng) movements. These boards are fractions of an inch off the ground, so they do not easily slip out from under the child (appropriate for Stages Two to Four).
Pitchback. No backyard should be without a pitchback. They can be used for solo games of catch (baseball and lacrosse) and as throwing and kicking targets. Create dozens of fun games and skill competitions with a pitchback to develop hand and foot/eye coordination in conjunction with agility training (Stages One to Three).
Agility ladder. Use the ladder to develop agility, balance, and coordination in hundreds of movement drills and obstacle course configurations. The ladder is laid flat on any solid surface and can be replicated on a driveway area with chalk (Stages Two to Four).
Step2 balance ball. As your child plays with this ball, he develops his balance skills, which leads to improved agility (change of direction, footwork) and better coordination and efficiency of movement. It also strengthens the supporting ligaments and muscles around his ankles, knees, and hips, which can help keep your child playing sports injury free (Stages One and Two).
Frisbees, tennis balls, and NERF balls. There are dozens of ways to incorporate these simple items in engaging drills that develop agility, balance, coordination, and speed. Tennis balls can be used in extensive hand/eye coordination drills for various sports. In fact, they are now used by many top athletic development trainers worldwide. NERF balls (footballs, baseballs, soccer balls, and indoor basketballs) are some of the safest and easiest types of balls to use when teaching throwing, catching, and kicking (Stages One to Four).
Gymnastic mats. A simple gymnastic mat allows your kids to experiment with tumbling, rolling, and falling without fear of seriously injuring themselves. Mats are also great additions to any obstacle course you build in your backyard or home, and they can be used as a safe landing area under any type of balance equipment (Stages One to Four). ♦
From Kim John Payne, Luis Fernando Llosa, & Scott Lancaster. Beyond Winnning: Smart Parenting in a Toxic Sports Environment (Lyons Press, Connecticut).